See our blog for landscaping tips!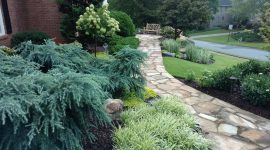 This landscape renovation project started in 2008 with a total hardscape renovation of the front landscape. After the hardscape project was completed Unique came back in and landscape to accent the architectural of the home and … [Read More of Our Blog...]
Landscape Creativity Takes Courage

Combine your landscaping vision with our creative expertise and together we'll tailor a unique outdoor space that you or your business can be proud of for years to come.
>> Let's DESIGN something.
Landscape Maintenance is Vital

A beautiful landscape is a healthy one. Maintenance preserves the look and feel of your landscape and saves you time and money. Find out how to keep your property in shape.
>> Let's TALK maintenance.
We'll Recommend Solutions

Your landscape vision is our first priority. We partner with you and recommend real solutions that will tackle your trickiest landscape challenges and create the area of your dreams.
>> Let's SOLVE a problem.
Our Clients Love Us

Don't just take our word for it! Residential and commercial clients across the Georgia area are loving our work and sharing it with others. We're confident you'll love us, too!
>> Let's see what they SAY.